MD Student
University Freiburg Medical Centre
Department of Medicine, Div. of Hematology and Oncology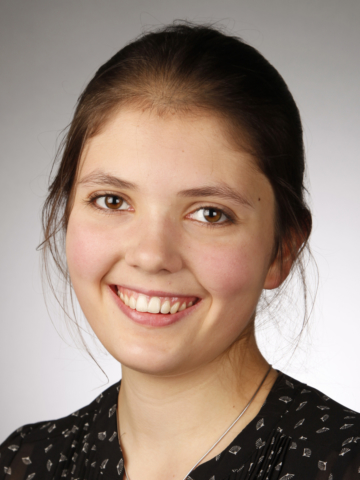 | | |
| --- | --- |
| 2018 - present | MD Thesis in the lab of Prof. Dr. Heike Pahl, Div. of Hematology and Oncology, University Freiburg Medical Centre |
| 2017 | 1st State-accredited Examination (1.Staatsexamen) |
| 2016 | Research Internship, Center for Structural Biology, Vanderbilt University, Nashville, USA |
| 2015 - present | Medical Studies, Medical School, University of Freiburg |
Awards, scholarships
| | |
| --- | --- |
| 2018 - 2019 | Research Scholarship "MOTI-VATE", awarded by the Faculty of Medicine, University of Freiburg |
| 2015 - present | Academic Scholarship "Studienstiftung", awarded by the German Academic Scholarship Foundation |
Publications
Staehle A.M., Peeken J.C., Vladimirov G., Hoeness M.E., Bojtine Kovacs S., Karantzelis N., Gruender A., Koellerer C., Jutzi J.S., Pahl H.L. and Staehle H.F. (2023) The histone demethylase JMJD2C constitutes a novel NFE2 target gene that is required for the survival of JAK2(V617F) mutated cells. Leukemia 37, 919-923.
Wollborn J., Hassenzahl L.O., Reker D., Staehle H.F., Omlor A.M., Baar W., Kaufmann K.B., Ulbrich F., Wunder C., Utzolino S., Buerkle H., Kalbhenn J., Heinrich S. and Goebel U. (2021) Diagnosing capillary leak in critically ill patients: development of an innovative scoring instrument for non-invasive detection. Ann Intensive Care 11, 175.
Staehle H.F., Heinemann J., Gruender A., Omlor A.M., Pahl H.L. and Jutzi J.S. (2020) Jmjd1c is dispensable for healthy adult hematopoiesis and Jak2V617F-driven myeloproliferative disease initiation in mice. PLoS One 15, e0228362.